Because of our manufacturing versatility, Waagmeester can create the perfect solution to your problem. Everything we produce is custom designed to fit your exact needs. These three pages of examples show some of the wide variety of custom canvas products we've made. Hopefully, they will provide you with ideas and inspiration for your project:
The Queen of the West is a riverboat on the Columbia River. The exposed upper deck needed to be enclosed with walls to extend its usefulness. During nice weather, the entire unit can be rolled up so that visitors can enjoy the river in sunshine. Canvas and fabric were the only reasonable choices for making a fully functional weather barrier. More details can be found here.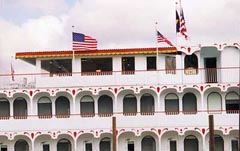 Custom-sized canvas tents and shelters are versatile, durable and inexpensive. They offer protection for inventory, equipment and personnel all over the world. ​We use light weight, super strong, technically advanced membranes for these structures. Our designs include large shelters that can be free standing, attached to buildings or span open areas between buildings. These shelters offer faster and less expensive storage in many cases and provide the only method of protection in other situations. They can be easily installed and dismantled for relocation. ​​At the PGE dam on the Lewis River, a temporary shelter was used to protect a work area from persistent rain. The cover slides open for crane access.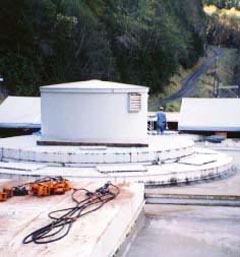 SUN SHADES & SUN SCREENS: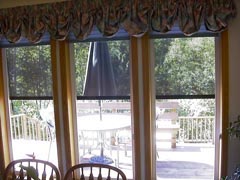 Fabric containers offer flexibility and efficiency for a broad range of dry and semi-moist, flowable materials, including certain types of hazardous waste. Extremely strong and durable container bags can be made from long-wearing, chemically-resistant synthetic materials – a cost effective alternative to fixed containers such as plastic or metal.
The Fluid Bag shown offers great strength while minimizing the chances of spillage. It was developed as a method to transport liquids that would be contaminated during contact with air during filling and discharging. Custom colors, logo and other imprints can also help your business while your product is on the move. Contact Waagmeester Canvas Products for all your bulk storage and container needs. We offer novel and cost-effective solutions.