Because of our manufacturing versatility, Waagmeester can create the perfect solution to your problem. Everything we produce is custom designed to fit your exact needs. These three pages of examples show some of the wide variety of custom canvas products we've made. Hopefully, they will provide you with ideas and inspiration for your project:
OUTDOOR ARCHITECTURAL ELEMENTS:
This outdoor stage cover adds shade and weather protection while incorporating a unique and distinctive look for the stage in Portland's beautiful Cathedral Park. The material used is a 27 ounce lacquer-coated polyester – which is an extremely durable material with significant tensile strength as well. In addition to providing cover and shade, the slope sheds water very well and the structure is designed to withstand high winds. More details can be found here.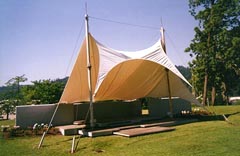 Electric fish barriers – fabricated from vinyl impregnated fabric – are an important tool for containment of fish as well as restriction of unwanted species. Electrodes emit a small charge into the water. As fish begin to enter the area, they are repelled. The charge can be turned off (opened gate) or increased (closed gate). Placing the electrodes in a vinyl housing permits the barrier can conform to any natural streambed shape. It is also significantly less expensive and intrusive during the construction process.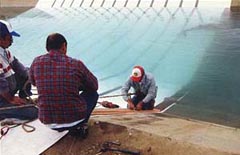 A colorful awning with a message at an office building or storefront makes a statement to passers by. It increases visibility and can be developed with your exact color scheme in mind. Awnings add style inexpensively. Awnings can reduce the harmful ultraviolet rays. Entryways can be extended offering hospitality during inclement weather. Translucent fabrics can even be backlit at night, providing a beacon of welcome for prospects. More details on our custom awnings and sun shades can be found here.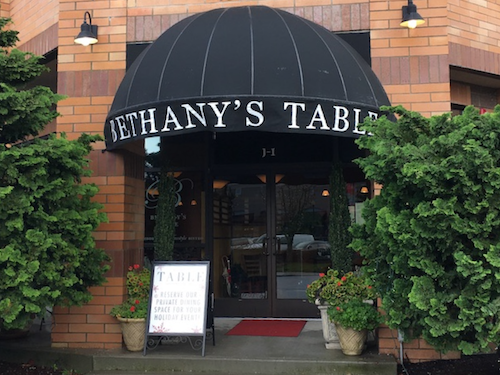 CUSTOM TRUCK, TRAILER & BOAT TARPS:
Waagmeester can offer custom solutions for keeping cargo clean and dry. Our custom fit transport covers will keep out the elements, while keeping a rig attractive. Our tarps and covers are manufactured with the finest materials and superior workmanship, resulting in a high quality, durable end product. More details on custom truck, trailer and boat tarps can be found here.