Because of our manufacturing versatility, Waagmeester can create the perfect solution to your problem. Everything we produce is custom designed to fit your exact needs. These three pages of examples show some of the wide variety of custom canvas products we've made. Hopefully, they will provide you with ideas and inspiration for your project:
Wagmeester's custom made retractable awnings offer the best of both worlds. On bright sunny days, the awning stretches out to create a shaded environment. When it is no longer needed, a flip of the switch pulls the awning back to the wall where it stays out of the way and allows all the natural light to come in. Popular uses include covering a patio area for outdoor picnics or entertaining. It is useful during bright sunny days and offers protection if it rains.
More details can be found here.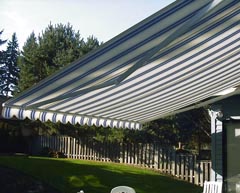 This eye-catching balloon demonstrates some of the beautiful fabric colors available. The structure is used to liven up a large interior space in a shopping mall. It was built with an aluminum frame and covered with bright canvas to give it the look of a hot air balloon. It is suspended by cables inside a shopping mall. This industrial project required cutting and sewing fabric in careful patterns as well as our metal framing expertise. Whether indoor or outdoor, canvas can add eye catching color where it is needed. Waagmeester has also designed and built intricate fabric structures and props for corporate trade show displays and museum exhibits. Our client list include many Fortune 500 companies. ​ Put our creativity and expertise to work on your next display or exhibit project.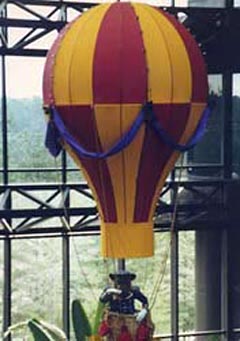 The Legendary Waagmeester "Can Do" Spirit: "Can you rig up an old rope bridge for our movie set?" we were asked. Waagmeester's resultant 330-foot long rope bridge structure, blending traditional 19th century construction and modern technology, appeared in Warner Brothers' 'The Postman', shot in eastern Oregon and starring Kevin Costner. More details can be found here.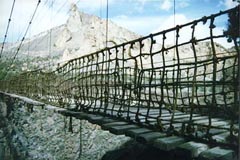 Dale Waagmeester's designs have won many local and national championships because of innovation in sail design and construction.Waagmeester's sailmaking facilities can accommodate every challenge with ease. Our quality craftsmanship shows in our work as we use the best equipment available. Our dedication and innovation is evident as we incorporate modern technology into our methods. The sail inventory for this 118-foot sailboat incorporates many of Waagmeester's tested design and construction techniques. More details can be found here.